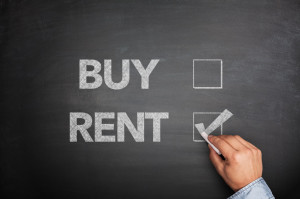 Homeownership isn't for everyone. In fact, some people prefer renting over owning.
If you're trying to decide if renting is right for you, consider the following:
1. You're planning to move in the next few years.
If you desire flexibility in where you live, being able to get up and go with ease, then renting is probably the right choice for you. You just have to wait until the lease runs out and you're free to move on. However, if you buy a house, that means you need to sell it before you can relocate.
2. You scored a great rental deal.
You may find a better deal renting than if you bought a house. If you find a place at a great deal, why give it up to pay a mortgage?
3. You don't want to hassle with maintenance or repairs.
Renting often allows you to hand off the maintenance and repairs. If you have a plumbing or electrical issue or some other problem, you can call up the property manager or landlord to take care of it. Some rentals also take care of the landscaping, allowing you to stay hands-off.
4. A down payment is out of the question.
If you don't have the money for a down payment, then renting is most likely your best bet. Otherwise, you'll have to find a way to scrape up the funds for a home that will come with more expenses.
5. You want a shorter commute to work.
Rentals are often more affordable in big cities. If you work in a densely populated area and want a shorter commute then you'll probably want to go with a rental.
6. You're moving to a new location.
Moving to a new town or city can be tricky to navigate. You need to acclimate to your surroundings. If you rent it allows you to get better acquainted with the area before planting roots.
7. You desire more amenities.
There are many rentals that offer additional amenities. You may find a rental that offers dry cleaning or doorman services, maybe your rental has a fitness center, swimming pool, or game room.
8. You want to save money on utilities.
Utilities can get pricey when you own a home. If you're looking to save on them, renting worth considering.
If you're looking for an ideal place to rent, pick one that has excellent property management from PMI: https://www.memphispropertymanagementinc.com/. This will ensure a more positive rental experience.