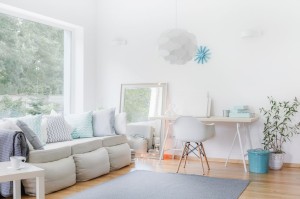 One of the nice things about renting a property is that the majority of maintenance issues can be handled by someone else. You typically won't need to hire a vendor to come in and handle issues that pop up.
This can be a tremendous relief for tenants compared to what homeowners face when a problem arises. While you may not have to worry about calling up the HVAC person or plumber when something breaks, it's important to take proper steps to help maintain the property.
Taking good care of your rental unit will keep it nice and allow you to build a good relationship with your landlord. Handling your rental property with care can boost the longevity of the floors, walls, and appliances and lessen the need for repairs. This can make your life easier and your landlord's.
Regular maintenance can be as simple as keeping the property clean and being careful not to break things. When something does break or seems to be nearing the end of its life, contact your landlord or property manager. You want to catch issues as quickly as possible. This will keep small problems from becoming large ones.
Additionally, by taking care of the property, you put yourself in good standing with your landlord. This allows you to have a great reference if you decide to move and need to look for a new place. It can also help you get your security deposit back. Stains on the carpet or holes in the walls can cause you to lose your deposit. Also, following the rental rules like not smoking in the property will keep it in better condition, since smoking can cause yellowing of carpet and walls.
Landlords should be vigilant in keeping their property maintained and responding to issues with immediacy. It's also a good idea for them to do inspections yearly to check on the property and see what needs to be fixed. In addition, it's important for tenants to help keep the property in good shape. Overall, this benefits both the tenant and the landlord.
If you're a landlord looking for a property management company to help maintain your properties please contact us at PMI: . We strongly believe in preventative maintenance and responding to problems quickly so that they don't become larger issues. We'll keep your property nice and your tenants happy.