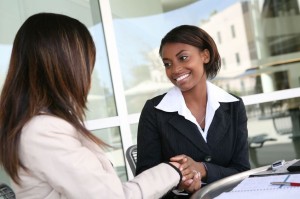 If you're hiring for help in your leasing office, one simple question can make the difference between hiring a rockstar or a dud. "Do you talk to strangers?" Ask the prospective employee about a conversation with a stranger. It's a good litmus test that can help you to determine how easily they can connect and establish rapport.
If you're interviewing a slate of inexperienced candidates (those who haven't worked in real estate per se), it can be difficult to assess competence. The questions that reference leasing skills may not be relevant to prior work experience. Sales strategy, property tours and learning software can be taught. However, soft skills are harder to come by. The candidate must be able to create rapport and foster connection. That's why asking about a recent conversation with a stranger can be so telling. The response may indicate future performance.
All too often, a manager makes a hiring decision based on emotion. "I like him or her and we'll worry about their skills or cultural fit later." Then a few weeks later we wonder why the individual doesn't seem at ease in the role. While a variety of personality types can succeed in a leasing office, finding the right fit takes some finessing. A successful leasing agent can start, build and sustain a conversation with anyone. Ask them about their most recent exchange with the cashier at the grocery store. Or the mailman. Or their barista. If they don't hesitate to recall such encounters and can offer a sincere response, you may have found your guy or gal. These are positive leads for someone that will perform at a high level in leasing. This bodes well for your customer service. A prospective tenant will remember that your agent was friendly, listened to their needs, offered suggestions about the schools in the area or where to grab a cup of coffee.
In short, people do business with people they like. Take time to identify whether the strengths of the individuals you are interviewing are the right fit for you. Don't make a costly mistake that could be avoided. Speaking of mistakes, you don't have to go it alone in property management. Having your own personal property manager means you don't have to spend hours pouring over potential renters' applications, interviewing them or collecting previous landlord referrals. You won't be wasting too much time with someone who isn't a good fit.
A professional property management company with years of experience and satisfied clients can save you an enormous amount of time and energy. Instead of having to deal with the tedious or nitty-gritty tasks of rental management, you're free to focus on the most important aspects of your job. Contact us today: https://www.memphispropertymanagementinc.com/