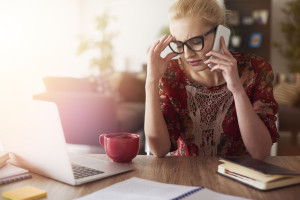 One of the biggest benefits of hiring a property management company is that you can lean on them to handle day-to-day rental operations. This allows you, the property owner, to focus efforts on boosting profits, instead of handling the minutiae or dealing with awkward situations. (Think work smarter, not harder.)
Regarding the latter, over the course of doing business, it's not unusual to handle tense or difficult conversations. No worries – our team is adept at handling such instances with care and professionalism. Here are a few common scenarios, which require effective tenant communication.
Rejecting applicants
It's protocol for property management companies to handle all tenant applications. Inherent to this process is a significant amount of rejection due to factors like insufficient monthly incomes, criminal convictions, unemployment, and tenants that have outstanding poor credit or a track record of late payments.
Fines
Sometimes good tenants turn bad. Say a tenant is in violation of your pet policy. Or maybe they're parking in an unauthorized spot. After a warning, how do you handle repeat offenses? A property manager can handle the process from notification to collection.
Evictions
This one isn't pleasant, but can be necessary to protect your business and be fair to other tenants. The process is never fun, which is another benefit of hiring a professional management company. Whether an eviction is necessary because of late payments or addressing criminal conduct on the premises, property managers follow a protocol outlined in the lease that supports the eviction processes. Such actions might include court filings, any attorney-related services, official court removal of tenants, and move-out and storage options for tenants.
Rent increases
Talking about money can be uncomfortable for all parties involved, even in business. For this reason, many landlords would rather avoid the conversation altogether even if it's merited. When you retain a property manager, you can count on them to effectively explain rent increases, taking the burden off you.
We're here to make your job a little easier. Having your own personal property manager means you don't have to spend hours a week putting out these fires. A professional property management company with years of experience and satisfied clients can save you an enormous amount of time and energy. Instead of having to deal with the tedious or nitty-gritty tasks of rental management, you're free to focus on the most important aspects of your job.
Sound compelling? Contact our office today to find out more!