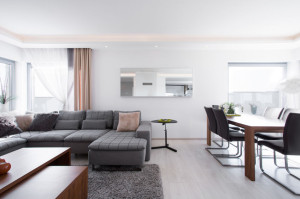 Real estate investment can be a lucrative business. However, it can also be a competitive one. There are multiple properties bidding for the attention of guests looking for short-term rentals. So, how competitive are you? Are you keeping up with the current demands that guests are looking for? To help determine how you're doing and what you could be doing better, we've laid out a few questions to consider.
Are you marketing your property with photos, video walkthroughs, and floor plans?
One of the easiest ways to boost your occupancy rate is to market your property efficiently. Guests want to know as much as they can about the property before choosing to rent it. High-quality photos, video walkthroughs and floor plans can help your guests get a good idea of what to expect and allow them to determine if it's the right property for them.
Savvy marketing also shows that you're up to date on technology. Old, blurry photos can leave a bad impression and make potential renters turn elsewhere. Don't forget, you should also use popular keywords in listings to increase views of your short-term rental properties.
Are the rooms and furniture configured for maximum guests and flexibility?
The more room you have, the more guests you can rent your properties out to. This also provides flexibility to your guests if they want to entertain for an evening or rent out the property with another family.
Are you making time for preventative maintenance and cleaning the property thoroughly?
Guests want to stay in a property that is well maintained. If you commit to preventative maintenance, you can reduce the risk of something breaking while a guest is staying on the property. The property also needs to be thoroughly cleaned from top to bottom, not just swept and the toilet paper restocked. People want the property to look new when they stay in it, they don't want to find dust or debris anywhere.
Do you offer any added amenities?
Do you provide extras like coffee and tea in the cabinet along with a Keurig or espresso machine? Do you have additional amenities like a hot tub or a foosball table? Do you have wifi, a surround sound system, or a streaming service they can use? These are just a few of the amenities you should consider to make your property more attractive to potential renters.
Do you provide tourist info?
If your renters are new to the area, they're going to want guidance on things to do and see. Of course, they could go to Google, but you could also help them in making a sound decision. It's always easier for guests when they have a local person providing suggestions. Let them know the best spots in the area. Provide them with a list of to-go menus, visitor guides and brochures.
Do you ask for guest reviews and feedback?
If you want to stay competitive, ask your guests to leave reviews. When you ask guests to review your property, it allows you to build a strong online reputation. You may even want to consider leaving notecards in your rental units that ask for guest feedback. After someone stays, you can review these cards and make changes as necessary. This can let you know what you're doing right or what you could improve upon, making other guests' experiences even better.
How quickly do you respond to problems?
You should provide guests with an emergency contact in case something happens. If a problem should come up, it needs to be handled with immediacy. The way you handle problems can encourage or discourage whether the guest books with you again in the future. It can also impact reviews online and through word of mouth.
After asking yourself these questions, how would you rate your short-term rental properties? Would you say you're doing well or have you found some areas in which you'd like to improve?
If you're looking to give your guests a better experience, we'd like to help. At PMI, we offer many resources to ensure landlords succeed in the short-term rental industry. We have reliable vendors who can handle problems with speed and accuracy. We clean and thoroughly maintain all of the properties in our care. Additionally, we use a great system for marketing to make sure that your property gets seen and found. This keeps your occupancy rate up and your business thriving. To learn more about the benefits of partnering with us, visit our website. https://www.memphispropertymanagementinc.com/.