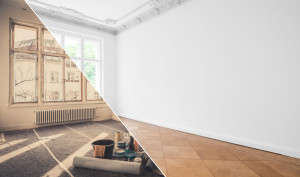 As a residential landlord, it's important to regularly invest in renovations. The right renovations can entice tenants to rent and increase the value of the rental. However, if too much money is spent during renovations, you may end up losing money. So, what renovations should you focus on to get a good return on investment?
One thing to remember is that there are two rooms used as rental "selling points"––the bathroom and the kitchen. When you're figuring out where to budget most of your renovations, you may want to draw your attention to these areas.
Kitchen renovations
One update that can pay off in the kitchen is buying new appliances. Stainless steel ones are very popular. New appliances won't need as much maintenance and they're energy-efficient. If you choose an EnergyStar appliance you can help reduce the cost of utilities too. This is a great perk, especially if your tenants are responsible for paying for utilities.
Bathroom renovations
In the bathroom, you may want to consider updating the toilet, vanity, showerhead and faucets. Updating these features can give the bathroom a fresher feel. Plus, a running toilet can waste water and money. Some shower heads are also water wasters, so consider getting a low flow showerhead.
The rest of the house
You might also want to consider a fresh coat of paint and new flooring. Believe it or not, a fresh coat of paint can go a long way to improving the look of a space. Just be sure you stick with a neutral palette to appeal to a larger audience. When it comes to flooring, you may want to choose something that's lower maintenance and long-lasting like laminate, stone or tile. Keep in mind, carpet wears out easily and collects stains.
Other factors to consider
When choosing what to renovate and how much money to spend, you'll want to consider the target audience you're trying to attract, the neighborhood your property is in and what your competitors are doing. These three things can help guide you in making decisions. There's a balance to strike when it comes to renovating. You'll need to spend money upfront to upgrade the property and reap the return on investment. However, you don't want to spend so much that you get in over your head.
Sometimes, renovations aren't even necessary. In some cases, you can fix problems or clean them up to look like new. If that's possible, it could save you money. Also, preventative maintenance and responding to maintenance issues quickly may also help you reduce the cost of larger renovations later on.
If you'd like help maintaining your property, contact us today. Please also visit our website to learn about the services we can offer you: .