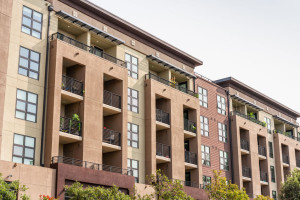 When tenants are looking for a place to rent, one of the things they may notice is how secure the property is. People will feel better about renting a residence that makes them feel safe. Making a few improvements on the security front can help those potential renters feel better about applying. It can increase satisfaction from current tenants and help protect your property.
Some security improvements are pretty simple. You want to ensure that every rental unit has good working locks on every door and window. Seems simple, but little things can sometimes get overlooked if you don't purposely address them.
Another easy update is to ensure there is good lighting not just in the parking lot and entrance, but also in the hallways. One more quick security improvement you can accomplish is to have any shrubs near the doorway or in the parking area trimmed so that there aren't easy places for intruders or attackers to hide.
For additional security consider making the front entrance keycard access only. That way only the renters, their guests, vendors and you can access the property. You may also want to install security cameras in the hallways, other shared areas, and on the exterior of the building, just be sure to let all tenants know about their presence.
To make sure you're taking any and all security measures needed, take a walk around the building. Survey the property and see if you spot any areas that could make it easy for a burglar to enter the property or to conceal themselves. This can help you determine if additional measures need to be taken to improve the safety of your property and tenants.
These are just a few ways you can increase security. It's a good idea to provide a few tips to your tenants for when they head out for vacation. Remind them that it's best not to let mail pile up when they go away, as this can attract intruders. They can ask someone else to get their mail or go to the post office to put a hold on it for the time being. You may also advise them to have a light timer on for when they're away, so it looks like someone is home. One more quick tip you may want to share with your tenants is that it's best not to mention on their social channels that they're going on vacation.
We hope you found these tips helpful. If you want additional assistance improving your investment property or managing it, please connect with us at PMI: .