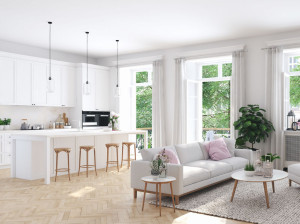 When a tenant is looking around for an apartment, they will try to find a property that fits their needs. One of the ways they do this is by trying to picture themselves in the property and what it might look like furnished. If you're renting an unfurnished apartment, you could use staging furniture to help give it more appeal. If you're renting out a furnished apartment, make sure the furnishings fit a wide range of people and that they're updated.
When considering how to stage your property, you need to think about what style is appropriate for your prospective tenants. You can base some of the furnishings on the locale your property is located in. If the apartment is smaller and designed for a single person or a couple, then you may want to put a smaller table in the dining space. You could choose one that folds open to show how they can expand the eating area when they have a few guests over. Little accessories can also boost the homey feel in your rental. You could update the cabinet pulls for example.
Staging a room allows a person to better envision the size of the rooms and how they could utilize them. You want to maximize the space and create a beautiful, pristine appearance. You could place a few books, pottery, greenery or accessories on a shelf or table in the living area (just don't go overboard, keep it clear of clutter). You could also put a luxury throw and pillows on the couch to spruce up the living area.
In the bedroom, you might want to install a bed and matching dresser. Don't forget a beautiful comforter and plenty of pillows. Basically, the idea of staging is threefold: 1.) To show what's possible; 2.) To accentuate the best parts of the rental; 3.) And to help potential tenants envision themselves living in the space. If you need ideas on how to stage your rooms, it can be helpful to look at photos of what others have done. Do a Google search of staged apartments to provide inspiration.
As you consider how you'll stage your rental, don't forget to take it outdoors. The property should be landscaped beautifully to give tenants a great first impression when they arrive. Many tenants care about the curbside appeal when considering if they'll rent your property.
If you need help renting out your property and finding the right tenants, please contact us. We'll make sure there are updated photos for the listing and screen tenants thoroughly to help you find the right match. Contact us today: https://www.memphispropertymanagementinc.com/.