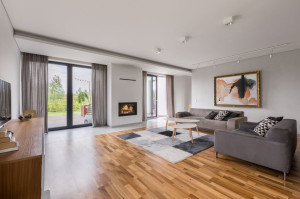 Open floor plans have been the rage for some time. People love that they make a space look larger. It allows renters to have get-togethers with ease. Overall, it can give renters a great first impression, too. People with kids like to be able to see what their children are doing in the living room, while they're working in the kitchen.
There are many perks to creating an open floor plan since so many people desire this type of layout. Of course, the more attractive you make your rental, the more likely you are to fill vacancies.
Still, there are some downsides to keep in mind when it comes to an open floor plan. For one, they reduce privacy and aren't sound dampening. It's also hard to hide your clutter. For example, if the kitchen is part of the living room, people will see your dirty dishes. But if you have separate rooms, you can have company in the living room without them seeing the kitchen.
The pandemic brought about a new problem with open floor plans, though. Lots of people are now working from home. That means they need a quiet, private space to get their work done. This can be more difficult with an open floor plan. So, what do you do?
If you still want to create an open floor plan because you think it will attract more renters, then go ahead. Just keep one thing in mind: create a space where renters can picture themselves working from home. Is there room for an office or a nook inside the open floor plan? Use staging to create this vibe or bring it up during a live showing. For example, if you know the person works from home, you could say something like, "and this would be a great area to set up a home office." Renters always choose a space that they can see themselves living in (or potentially working in). So, keep this in mind before you decide to tear down any walls or remodel your unit.
If you'd like help preparing your property for rent, or you need help attracting new tenants, get in touch. Call today. We look forward to hearing from you!