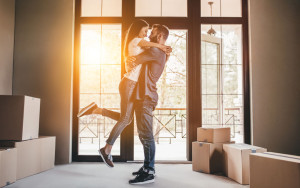 While you may be a landlord because you're motivated by the income opportunity, you can't approach the tenant relationship as such. The relational aspect of renting a property can't be overstated. You need to treat it as more than a business transaction. Here's how to do that:
1. Provide great customer service. Make all interactions with your tenants as pleasant as possible. Prompt response to maintenance issues is paramount to providing a great tenant experience. That means you need to be careful in who you hire for contract work. You may be a good landlord, but aligning yourself with a vendor who does shoddy work can cost you in the end.
2. Be open and honest. Landlords should take great care to provide top-notch communication. This applies especially to matters concerning prices and charges. While no one likes to talk about money, being upfront about any changes — and communicating them with ample notice — can pay dividends in the future.
3. Stay engaged. Some landlords check out, especially when they have multiple properties to manage. They may gripe about having to make minimal repairs to their homes. But the reality is that if you can't afford to lease your home, don't do it. Consider the true cost of doing business. Making the tenant feel important is significant and doesn't go unnoticed. Taking consistent steps to constantly be improving the property not only will keep your resale values high, but allow you a better long-term relationship with your tenant. And happy tenants can mean more referrals.
If you're struggling to keep up with all the day-to-day tasks that come with property management, remember you're only human. It's OK to ask for help. We'd be delighted to help.
Having your own personal property manager means you don't have to spend hours pouring over potential renters' applications, interviewing them, or collecting previous landlord referrals. You won't be wasting too much time with someone who isn't a good fit or unexpectedly find yourself in violation of housing laws and regulations.
A professional property management company with years of experience and satisfied clients can save you an enormous amount of time and energy. Instead of having to deal with the tedious or nitty-gritty tasks of rental management, you're free to focus on the most important aspects of your job. Contact us today: https://www.memphispropertymanagementinc.com/.