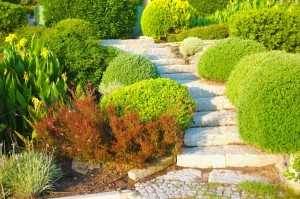 Want to attract more potential tenants and increase your current tenants' satisfaction? Consider focusing on curb appeal.
We all know that curb appeal provides the first impression for potential tenants. And, current tenants are sure to be pleased with updates. But where do you start?
There are a few things you can consider. Here are some of our recommendations:
Fix pathways and parking lots
Give your parking lots fresh paving so that any cracks and bumps are corrected. Also, make sure that lines are clearly visible.
Check out your walkways too. Do any cracks or other imperfections need to be fixed?
Add fresh paint
You may want to paint any exterior doors to give them an update. You can also consider painting the trim or going big and painting the whole building. New paint does wonders for curb appeal. On a side note, if new paint isn't enough to improve the appearance of your rental unit and it has siding, it may be time to replace it.
Think about your landscaping
You want the landscaping to appear well kept. Make sure that your property is mowed on a regular basis. Consider having low-maintenance, potted plants placed by the entrances. Window boxes can also be a nice touch. In addition, you can have perennials planted along the walkways. Have any dead trees or shrubs removed from the property and replaced by fresh ones. Make sure they're looked after so they don't overgrow or look unsightly.
Consider pressure washing
There are several areas of the property that you may want to get pressure washed on a schedule. Places like the parking lot, driveways, and walkways are good places for this. Depending on your property's siding, you may opt to have that pressure washed as well.
Make sure the exterior is well lit
A well-lit outdoor area can offer appeal and it provides safety. Make sure that your parking lots, walkways, and entrances all have sufficient lighting.
Replace windows and doors
If you have windows or doors that are showing too much wear, it may be time to replace them. Inspect all of them and replace those that are damaged, faded, or in need of repair.
Give your tenants space outside to enjoy
Consider adding some things to the outdoor space like a gazebo, picnic tables, a yard for dogs (if you allow them), and a community garden.
We hope these ideas spark some inspiration for your next project. There are so many ways you can update the exterior of your rental property. If you'd like help attracting and retaining tenants, partner with us at PMI: https://www.memphispropertymanagementinc.com/.