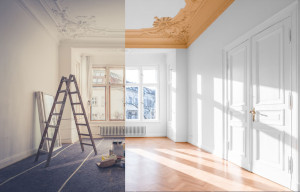 Are you renovating your rental property and unsure how much money you should invest? You need to take a careful look at your budget. Consider what your competitors are charging for similar rentals in your area. Know what your property is worth. Know how much your property value will increase depending on certain upgrades. You need to consider how much money is worth putting into the property because you need to find the right balance. You want to put in enough money to make the rental attractive to new tenants. However, you don't want to sink too much into the property or it could end up not being profitable.
Once you know how much you can budget for the property to still be profitable, either immediately or in the near future, then you can consider what upgrades to prioritize. Of course, the most important things to prioritize are the items that are eyesores or not functioning as they should. That doesn't mean you need to upgrade to the newest, greatest thing, but you do need to find something that will appeal to prospective tenants.
Some less costly upgrades can go a long way toward improving the overall look and feel of a rental, including new paint and flooring. Of course, when it comes to flooring, you have plenty of options to choose from. Consider your options carefully. Think about the price, maintenance requirements and longevity. One good option may be luxury vinyl planking since it's resistant to scratches, it's waterproof, and it's easy to maintain. You can explore other options as well. Or you can talk to a flooring expert and see what option is best for your home.
One of the most expensive rooms to remodel is the kitchen. If you need to replace cabinets, do some price checking to see who has the best deal. As for countertops, they can also get pricey, but you don't have to go with a high-end countertop like quartz unless it's a luxury rental. Laminate countertops are very affordable and beautiful. Solid surface countertops are another good option to consider, they're an upgrade from laminate and they come in a range of prices.
There are plenty of things to think about when you're renovating your rental property, just be careful you find that balance so the rental is attractive and profitable. We'd be happy to help manage your property, learn more by reaching out to us at PMI. Visit our website here: https://www.memphispropertymanagementinc.com/.