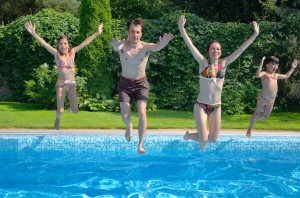 Do you shower in the morning or at night? Do you enjoy midnight movies or early-morning breakfasts? Do you prefer 70-degree nights or something cooler?
Those are great questions to ask your traveling companions before spending your first night in a vacation rental. Those casual conversations can make the difference between a fun vacation and a not-so-fun experience. Trust us.
Want to know the difference that causes the most consternation among fellow travelers? Sleeping habits! At one end are the early birds. These are the vacationers who want to walk on the beach at dawn or get up to read the morning paper and reflect on the day ahead. On the other end are night owls. These are the folks who enjoy sunrises behind closed eyelids. They party late and want a quiet house at 10 a.m. Not surprisingly, each group can cause the other some grief. So how do you resolve this little dilemma? It all comes down to communication, planning and compromise at times.
Here are a few pointers:
If rooms are shared, early birds should room with each other. And night owls should do the same. But make sure to assign those groups the right rooms. You may want to turn up the television and see which room is least affected by the television: This one is for the early birds. Then plug in the blender in the kitchen and see which room is quieter. This one is for the night owls.
The talk should be frank and the tone should be humorous. Truth is, a happy vacation comes when you figure out how to make your normal living patterns work together. And it's easier in a vacation rental than anywhere else, because there's room to spend your nights a little farther apart. A discussion at the beginning, when you all still like each other, will keep you liking each other even when the vacation is over.
While we can't help you navigate interpersonal relationships, we're poised to make your life easier in another way. Our full range of services help take the stress out of planning your getaway. We are passionate about providing the best vacation rental experience for both our guests and our property owners. We strive to make your experience one of comfort, convenience and professionalism. Visit our website PMI of Memphis for a listing of vacation properties. Your dream vacation could be just a click away!