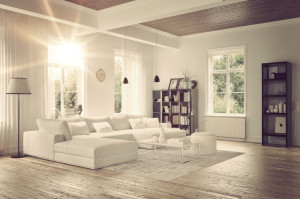 As you know, one of the top responsibilities that landlords have is dealing with property maintenance. Even if your property is in tip-top shape when you buy it, you'll need to do some things to keep your property maintained, and eventually, there will be things that need fixing or renovating.
Properties experience wear and tear which means you need to invest in regular maintenance. Performing frequent inspections and properly maintaining your properties can help you save money in the long run. These activities can also help you better plan for any large expenses that may be needed in the future.
But, what types of things should you prioritize when it comes to maintenance and renovations? You need to look ahead to the future. What types of things can you do now to improve your investment in the long run? Consider investing your money in the things that will increase the property value and help tenants.
Some examples include green initiatives that may entice millennials and gen Z to rent from you or new appliances which can last longer without the need for repair. New paint and new flooring can also go a long way with tenants. Plus, these are both relatively affordable renovations in the scheme of things.
Beyond just looking ahead, you also need to consider how important each maintenance need or renovation is. The things that take priority are those that increase tenant safety. For example, you need to make sure that every rental unit has working carbon monoxide and smoke detectors. Make sure they're tested periodically so that you know they're still reliable in the case of an emergency.
You can also take steps to increase your tenants' safety by installing outside and reliable hallway lights. If a light goes out, make sure it's replaced immediately. You might also want to consider any handrails that lead up to the property or are on stairways. Railings should be steady and not wobbly. Make sure that tenants' who need to rely on these handrails can.
Consider the pathways going to your rental properties as well. Make sure there aren't potential tripping hazards that could lead to an injury or lawsuit. The point is that you want to prioritize any maintenance that could affect the overall wellbeing of your tenants like mold or electrical problems. Make sure to handle plumbing issues with speed as well, since leaking water can cause significant damage.
There are many upgrades you can make to your rental properties. The most important thing is to be wise in deciding what needs to be prioritized. You need to respond to tenant questions and concerns with speed. You also have to make sure you're taking safety measures to ensure your tenants are protected from preventable hazards. Beyond that, you need to determine what renovations have the greatest return on investment.
If you're looking for a property management company to help keep your property maintained, connect with us today: https://www.memphispropertymanagementinc.com/. We'd be happy to assist you.