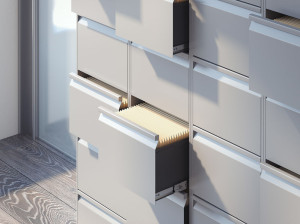 When it comes to being a landlord, there are a lot of things you need to be aware of and a lot of things you need to do in order to keep your investment successful. One of the things you need to protect yourself and your investment is to keep records (and lots of them).You need to record rental and application payments, copies of leases, payments made to vendors, anything you buy for the property, and conversations you have with tenants.
These records not only help you stay organized, they also help you maintain your budget and offer some protection in the case of a lawsuit. For example, if something happens and you and your tenant have a disagreement, you will have records of all of your communications. You will also have records of what payments they've made.
But how do you keep all of these records without getting overwhelmed? You can get knee-deep in paperwork pretty quickly, especially if you own multiple rental units. Of course, you could go the traditional route and have a well-organized filing cabinet for all of these things. You may also consider filing many of these items electronically. For example, it makes sense to keep digital records of online payments and email communications.
Other items that aren't done digitally could be scanned later, so you can create a digital file. But keep in mind, if you go digital, it's important to have backups in case something should go wrong. You could use an external hard drive, a cloud-based system, or a thumb drive to store backups onto. Also, keep in mind that if you have communicated with tenants over the phone or in person, you may want to follow up with notes of the conversation.
Experts can help you keep things organized with ease. For example, when you partner with PMI, we can help you keep things sorted. We can handle finances and even offer a portal for which renters can pay online. We have a great team of vendors we work with and will make sure that any payments are kept track of.
From rental applications to fees to tenant conversations, it really can be a lot to juggle. But losing receipts, copies of leases, or rent checks could hurt you. That's why it's imperative to have an excellent record-keeping process in place. We'd love to help. Visit our website: PMI of Memphis. When you partner with us we can assist you every step of the way to protect your investment.